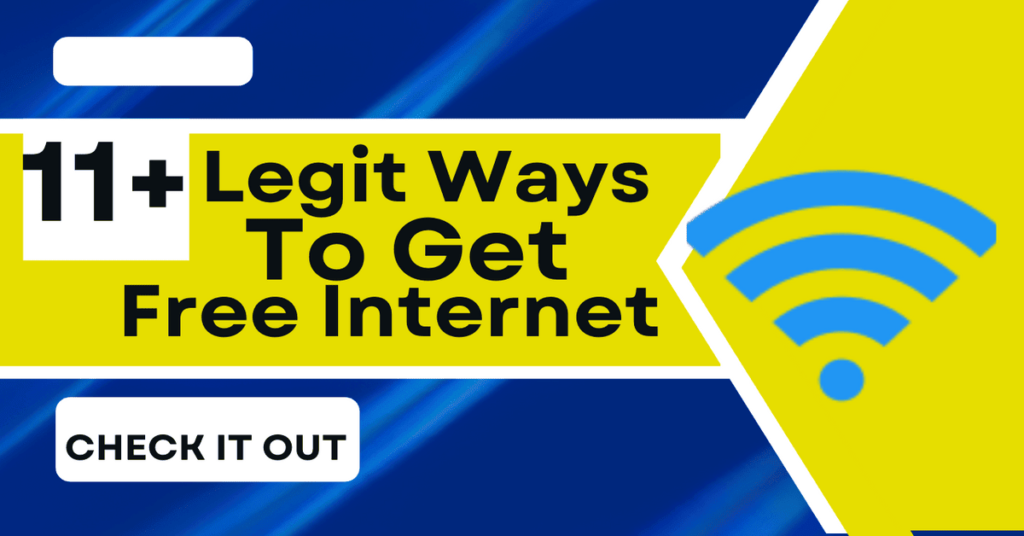 If you're like most people, you don't have unlimited data on your cell phone plan. With all of the websites, apps, and programs we rely on to stay connected and entertained, it's easy to drain your available data before the month is over!, Here are legit Ways To Get Free Internet Access. To Get An Update On New Post Notifications, Subscribe To This Youtube Channel.
Download Public Wi-Fi Apps
There are a few different apps that can help you find public Wi-Fi hotspots near you. Free Wi-Fi Finder and JiWire Hotspot Finder are two popular options. Once you've found a hotspot, open the app and connect to the network. Some require an email address and password while others will automatically authenticate you with a digital certificate.
Worst-case scenario, some public networks have captive portals which require users to fill out a form or watch an advertisement before they get access.
Others simply provide visitors with information about the company sponsoring the wireless network. For example, Dunkin' Donuts offers their customers free internet for 60 minutes when they buy any item from their menu.
Keep in mind that this type of connection may be slower than your typical high-speed broadband connection.
Fast Food Restaurants Can Help You Out
If you find yourself in need of free internet and you don't have any friends or family who can help you out, your best bet is to head to a fast food restaurant.
Many fast food places now offer free wifi, so you can surf the web, check your email, or do whatever it is you need to do without using up your data plan. Just be sure to buy something while you're there! Just be sure to choose a restaurant with good reviews, as some of them may have slower speeds or less reliable connections.
Go to an Authorized Hotspot
One way to get free internet is by finding an authorized hotspot. These are usually places like coffee shops, libraries, and public parks. When you connect to one of these hotspots, you'll usually be asked to enter a password or accept terms and conditions. Once you're connected, you'll be able to browse the internet for free.
Libraries
Libraries are a great place to get free internet access. Most libraries offer free Wi-Fi, and some also offer computer stations with internet access. Even if your library doesn't offer Wi-Fi, you can usually connect your laptop or other devices to their public network.
Sometimes they will have workstations that you can use for free as well. Just make sure to ask before you start working so that you don't disrupt the work of others who might be using the computers.
Cafes, Bars, and Hotels
Chances are, you've been to a cafe, bar, or hotel that offered free Wi-Fi to its patrons. While you may have had to purchase something in order to log on, once you were online, you had free reign of the internet.
That's because many businesses understand that offering free Wi-Fi is a great way to attract customers and keep them coming back. It also helps promote their brand and stay relevant in the digital age.
The next time you find yourself at one of these establishments, ask if they offer complimentary Wi-Fi. If yes, it never hurts to ask if they would be willing to connect your device, some places will say yes as long as you buy something from them every so often.
Use a public Wi-Fi
One way to get free internet is to connect to a public Wi-Fi network. This can be done at most coffee shops, libraries, and even some restaurants.
While public Wi-Fi is convenient, it's important to remember that these networks are not always secure. So be sure to avoid accessing any sensitive information (like online banking details) while using public Wi-Fi.
The downside of this method is that there may be time limits on the amount of time you can spend connected to the Wi-Fi or on how much data you can use. Also, many businesses require you to buy something before connecting for the first time.
Become Friends with your Neighbors
One way to get free internet is to become friends with your neighbors. That way, you can piggyback off of their Wi-Fi connection. Plus, they might be more likely to give you access if you're on good terms.
Here are a few tips for becoming friends with your neighbors:
1) Knock on their door and introduce yourself.
2) Ask them what the password is to their Wi-Fi network.
3) Explain that you need the password because you don't have cable and it's really expensive especially if you are a student.
4) Send them a thank-you card or bring them some cookies as a gesture of goodwill in order to build trust.
Find an Open Wireless Network
If you live in a major city, chances are there's an open wireless network available for you to use. Here's how to find one
1. Install a listening program such as Wireshark or NetStumbler on your computer, which will tell you if any networks are broadcasting within range of your device
Browse the list of visible networks
Select the network that is not password protected and provides free internet access
Press connect on your computer