How To Find Blog Post Ideas Domination Tips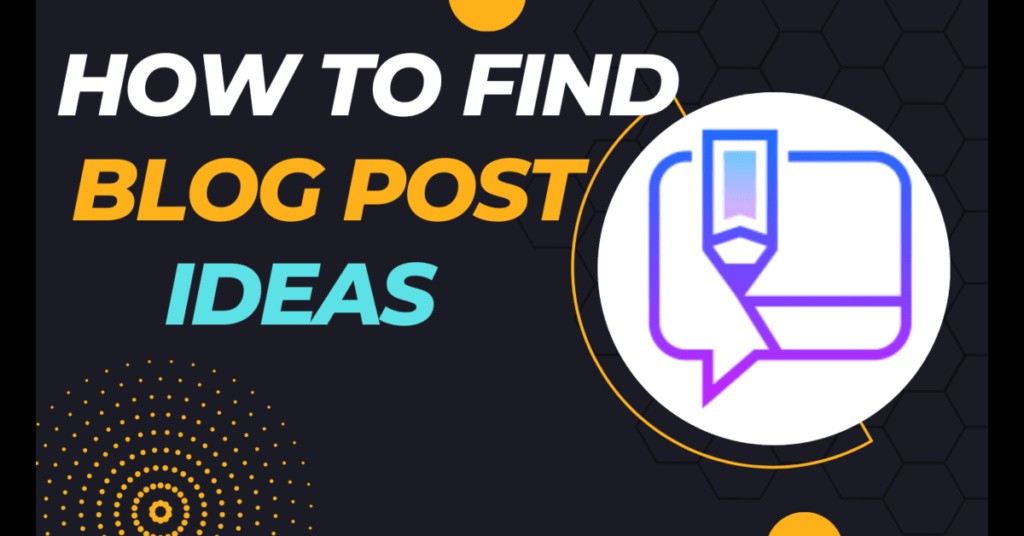 Finding blog post ideas isn't always easy, but it's essential to keep your audience engaged and coming back regularly to read your content. These seven tips will help you find blog post ideas that fit with your voice, attract the kind of readers you want, and keep them coming back for more. You can as well Subscribe To This Youtube Channel To Receive Updated Post Notifications.
Study Other Blogs in Your Niche
When you're looking for blog post ideas, it can be helpful to study other blogs in your niche. See what topics they're writing about and how they're approaching those topics. You can also get a feel for the types of posts that are popular in your niche and see what kinds of posts get the most engagement.
For example, if you're trying to come up with an idea for a parenting blog post, look at what posts are getting shared on Facebook or Pinterest. If people are commenting on or sharing one type of content more than others, then that is probably an area where there is demand for content.
Even though this can seem like guesswork at times, it helps you focus on subjects your readers will enjoy reading about. You can as well use blog content ideas generators to come up with the best blog post ideas, you can see a list of them here
Monitor Forums and Communities
When you're part of an online community or forum related to your industry, you'll get a front-row seat to the questions people are asking. You can then answer those questions in your blog posts. Not only will you be providing valuable content, but you'll also be building relationships with potential readers.
Keep track of these conversations and look for topics that aren't already covered on your site. Monitor Social Media: It's always important to stay current on what's happening on social media and it might lead you to new blog post ideas.
Keep tabs on what's trending and pay attention to any conversations where there is high engagement from users, which could indicate a topic that is relevant for your blog and needs more coverage.
Keep an Eye on Trends
You can't write about what's not popular, so it's important to keep an eye on trends. Google Trends is a great way to see what people are searching for. You can also use social media sites like Twitter and Facebook to see what topics are being talked about the most.
Once you have found some ideas you want to pursue, check out your company blog or other industry blogs. It might be worth asking your customers if they have any questions that they would like answered in a blog post.
Create a List of Your Own Priorities
As a busy professional, it can be difficult to find time to blog. When you do have time, it can be tough to decide what to write about. A great way to come up with ideas is to create a list of your own priorities. What are the things you're passionate about? What are the issues you care about?
Once you have a list of potential topics, it will be easier to choose one that's right for your blog. If you need help narrowing down your options, think about how each topic would fit into the structure of a blog post: does it make an interesting statement or argument? Does it provide a fresh perspective on an old topic? Is there something new to say about this issue or idea?
Your answer to these questions will help you figure out if this is the best post for now and whether it would make sense as part of an upcoming series.
Look into Industry Newsletters
A great way to find blog post ideas is to look into industry newsletters. This is a great way to see what new products or services are being released that you could write about. You can also get a feel for what people in your industry are talking about and what issues they are facing.
Plus, it's a great way to stay up-to-date on the latest news in your industry. If you don't have time to read through the newsletter every day, just go back and skim through them from time to time. It's worth it because of all the valuable information you'll be able to take away from these newsletters.
Work from your audience's point of view
Your audience is always top of mind as you think about what topics to write about. What are they interested in? What questions do they have? How can you help them? Keep your audience's needs in mind as you brainstorm ideas for your next blog post.
Write about the topics that interest them, answer their questions, and offer a solution to their problems. That's what will make your posts interesting and engaging!
Look at Trending Topics in Quora
If you're looking for blog post ideas, a great place to start is by looking at trending topics on Quora. You can find these by going to the homepage and scrolling down to the Trending Topics section. Here, you'll see a list of popular topics that people are talking about. You can click on any of these topics to see a list of related questions. This is a great way to get ideas for blog posts that are likely to be popular with your audience.
Making Use Of Hashtags
Another way to find good blog post ideas is by following hashtags. To do this, simply search for hashtags relevant to your niche in Instagram or Twitter (e.g., #startups). You can also use search engines like Google or Bing if you want more comprehensive results. Then, browse through the hashtag feed and look at what other users have posted under those hashtags.
Research popular topics on Pinterest
When you're looking for blog post ideas, a great place to start is by seeing what's popular on Pinterest. You can search for topics that are trending in your industry or niche and then look at the pins that are being saved the most. This will give you an idea of what people are interested in, and you can then craft a blog post around that topic.
Read a book on blogging
If you want to find blog post ideas, one of the best places to start is by reading a book on blogging. This can help you understand the basics of what makes a good blog post and how to come up with ideas that will engage your audience.
Another great way to find blog post ideas is to look at other blogs in your niche and see what they're talking about. You'll be able to get a sense of topics that people are interested in.
Still another option is to take pictures of something interesting or quirky and write about it. For example, if you took an amazing picture of __ then maybe you could write about it or share some advice on taking such a photo yourself.
Finally, don't forget that you're the expert when it comes to your own life experiences so make sure not to leave them out as blog content!
Listen to other people's stories
One great way to come up with blog post ideas is to simply listen to other people's stories. Whether you're overhearing a conversation at a coffee shop or sitting down with a friend for a chat, pay attention to the topics that come up organically. You never know when you might hear something that would make for a great blog post!
If you have trouble staying on track during conversations, try keeping an idea journal with you and jotting down any ideas as they come up throughout your day. Keep it in your bag so it's always nearby and easy to access.
Listen to what your community wants
A great way to come up with blog post ideas is to listen to what your community wants. See what questions they're asking, what problems they're having, and what information they're looking for. You can do this by monitoring social media, reading comments on your blog or related niche blogs, and sending out surveys.
By understanding the needs of your community, you can create content that will engage them and keep them coming back for more.
Stay up-to-date on current events
Knowing what's happening in the world will help you come up with blog post ideas that are relevant and engaging. Plus, if you can tie current events into your industry, you'll be able to show your readers that you're tuned into what's going on and that you have something valuable to say. Here are a few ways to stay up-to-date ;
1) Read newspapers and blogs – Check out local newspapers and blogs for stories that might interest your audience.
2) Subscribe to an RSS feed – Google Reader is one of many free RSS feeds out there. It's an easy way to keep track of all the latest news from sources you trust.
Look at Trending Topics on Social Media
You can find a lot of blog post ideas by looking at what's trending on social media. For example, if you see a lot of people talking about a certain topic on Twitter, that could be a sign that it's something people are interested in and would want to read about. Just make sure to put your own spin on it so your blog post is unique.
If you don't have time to monitor social media trends all day, we recommend using tools like Hootsuite or Sprout Social to help manage your time better. Checkout This Category To Find Out Other Interesting Topics